Bienvenue à Salisbury
Situated in southern England's rural heartland, Salisbury stands serenely amid a typical English landscape. Our historic medieval city offers everything from cosmopolitan pavement cafés to traditional coaching inns, specialist independent retailers to major high street stores, a fine array of historic attractions to excellent year-round entertainment. Salisbury is the perfect fusion of ancient and modern.
History
5000 years ago
Whilst Salisbury has occupied its current location for almost 800 years, the city actually began life about two miles to the north. The massive earthwork now known as Old Sarum started out as a Neolithic community some 5000 years ago.
Later it became an Iron Age hill fort, and was subsequently inhabited by Romans, Saxons and Normans before finally developing into a flourishing medieval settlement and the original city of Salisbury. Today you can see the ruins of a royal palace, a castle and the ground plan of the two earlier cathedrals.
A shortage of water, lack of space and a breakdown in relations between the clergy and the military eventually led to Old Sarum being abandoned in favour of an alternative site further south, at the confluence of five rivers: the Avon, Bourne, Nadder, Ebble and Wylye.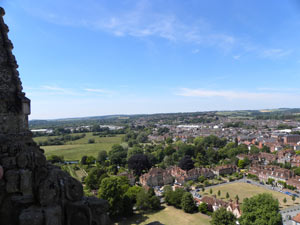 The new city
New Sarum (Salisbury), and the Cathedral you see today were founded in 1220AD by Bishop Poore. He designed his new city in the form of a grid, with five streets running from north to south and six from east to west. The squares formed between these intersecting streets were known as 'chequers'. Modern-day Salisbury offers a pleasing mix of architectural styles, where medieval half-timbered buildings mix with elegant Georgian mansions.
Que vous soyez un cycliste, un musicien, un joueur de rugby ou en vacances en famille, vous serez accueillis par l'Association de Jumelage Salisbury Saintes. Nous serons ravis de vous montrer notre ville.
Ten things to see and do on a visit to Salisbury
Salisbury's 13th century Cathedral Church of the Blessed Virgin Mary
Largely completed within 38 years, Salisbury Cathedral is a magnificent example of Early English Gothic style. The tallest spire in England soars 123 metres (404 feet). The Tower Tour is 332 steps which lead up narrow, winding staircases to the foot of the spire, 225 feet above ground.
Music is an integral part of Cathedral life. Alternating between the boy and girl choristers, alongside adult lay vicars, the service of Evensong is sung most days.
The Chapter House
The Cathedral's Chapter House contains the best preserved original Magna Carta manuscript, dating from 1215AD. Magna Carta was originally conceived as the solution to a political crisis in medieval England, and its influence has spread worldwide.
Salisbury Cathedral also has Europe's oldest working clock (AD1386); the largest cathedral cloisters in Britain; a unique 13th century stone frieze of bible stories in the Chapter House and the largest and earliest complete set of quire stalls in Britain…..and the spire now leans 69.85 cm to the west.
Salisbury Cathedral Close
Facing on to Choristers' Green, Mompesson House, a National Trust property (seasonal opening) is a perfect example of Queen Anne architecture. Built in 1701 it is noted for its period furniture, magnificent plasterwork, fine oak staircase and award-winning collection of 18th century drinking glasses.
Just across the Green is The Wardrobe, which today houses the museum of The Rifles (Berkshire and Wiltshire) Regiments. Dating from the 13th century, it was used as a clothing store in times past. Now it tells the history of the Royal Berkshire Regiment, the Wiltshire Regiment and the Duke of Edinburgh's Royal Regiment.
Further along West Walk is Salisbury and South Wiltshire Museum. This award-winning museum has a Stonehenge Gallery, and houses the Monkton Deverill gold torc, the Warminster Jewel and the famous 'Amesbury Archer'. Displays include early man, the Romans and Saxons, the history of Old Sarum and Salisbury and an outstanding collection of Wedgwood china.
At the heart of the city
Fronting on to the historic Market Place, stands Salisbury's Guildhall. Whilst the original building had its origins in medieval times, the building we see today is the fourth of its kind in the city and dates from the 18th century.
The Poultry Cross on Butcher Row, (largely 15th century), was built to give shelter to market traders.
Salisbury's water-meadows
A haven for wildlife, Harnham water-meadows have been immortalised in the work of landscape artist John Constable (1776-1837). To enjoy Constable's view of the Cathedral for yourself, take a stroll along the Town Path from Queen Elizabeth Gardens towards Harnham Mill.
Stonehenge - a UNESCO World Heritage Site
A short drive (11 miles) north from Salisbury through rolling countryside stands Stonehenge.
Constructed between 3000BC and 1600BC by the people of the Stone and Bronze Ages, Stonehenge's orientation on the rising and setting sun has always been one of its most remarkable features. Thanks to its shaped stones, unique jointing and perfect geometry Stonehenge is the most sophisticated stone circle in the world.
The 1500 acres of National Trust land surrounding Stonehenge contain the remains of over 400 other scheduled monuments, some even earlier than the stone circle itself. These include Woodhenge (thought to be contemporary with Stonehenge and similar in size); The Cursus (a long, rectangular earthwork, slightly older than Stonehenge); and Durrington Walls (a huge Neolithic earthwork).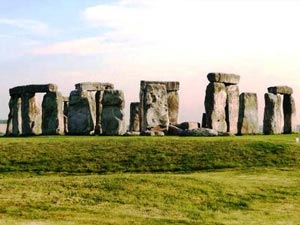 Nearby stately homes
Just 3 miles from Salisbury Wilton House (seasonal opening) is set in 21 acres of parkland. The magnificent 17th century Inigo Jones Staterooms include the Double Cube Room, designed to display family portraits by Van Dyck. The Adventure Playground is open all year.
Longleat House (26 miles from Salisbury) played host to Queen Elizabeth I in 1574. It is surrounded by 900 acres of parkland, designed by Lancelot 'Capability' Brown. Longleat's Safari Park is a great attraction for all the family.
One of the finest gardens in the world, Stourhead, a National Trust property (28 miles from Salisbury) was laid out between 1741 and 1780. Set around a tranquil lake and dotted with classical temples and follies, the garden is breathtaking at any time of year. The magnificent Palladian mansion (seasonal opening) contains outstanding collections of paintings and Chippendale furniture.
Exploring the countryside
With plentiful footpaths, miles of ancient drove roads and uncrowded country lanes, the countryside around Salisbury is perfect for exploring by bike or on foot.